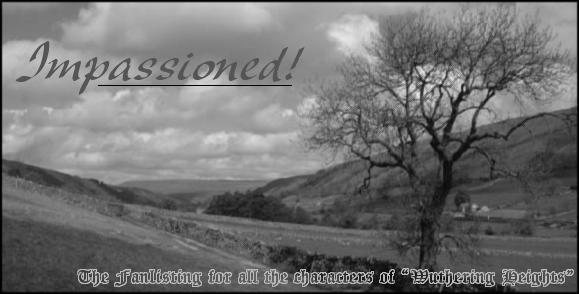 Home | About | Rules | Codes/Buttons | Join | Member List | Edit | Extras
What is a Fanlisting?

A fanlisting is a place for all fans of a particular movie, actor singer, or in this case literary characters, to come together. It is a web clique that lists fans of a particular subject. Unlike most web cliques, a person does not need a web site in order to join. Fans from around the world submit their information to their approved fanlisting and they are then listed to show their love for the subject.
About the characters in Wuthering Heights


* Mr Lockwood - Mr Lockwood is Heathcliff's tennant at Thrushcross Grange and the novel's first narrator. He is the only 'outsider' in Wuthering Heights.
* Heathcliff - The main character (the book was nearly called Heathcliff), Heathcliff is an orphan brought to live at Wuthering Heights by Mr Earnshaw who falls deeply and fatefully in love with his daughter, Cathering Earnshaw.
* Catherine Earnshaw (later Linton) - Daughter of Mr Earnshaw, is passionately in love with Heathcliff, but marries Edgar.
* Hindley Earnshaw - Catherine's brother. Inherits Wuthering Heights and loathes Heathcliff.
* Hareton Earnshaw - Son of Hindley Earnshaw and Frances - the second half of the novels' version of a young Healthcliff.
* Nelly (Ellen) Dean - Servant at Wuthering Heights and Thrushcross Grange, narrates most of the story to Mr Lockwood.
* Joseph - Eldery servant at Wuthering Heights. A religious fanatic.
* Edgar Linton - Son of Mr and Mrs Linton, brother of Isabella. Marries Catherine.
* Isabella Linton (later Heathcliff) - Sister of Edgar.
* Linton Heathcliff - Son of Heathcliff and Isabella.
* Hareton - Son of Hindley and Frances.
* Catherine Linton (later Heathcliff) - Daughter of Catherine and Edgar.
* Zillah - The housekeeper at Wuthering Heights after Nelly moves to Thrushcross Grange.
* Mr Earnshaw - Owner of Wuthering Heights, father of Catherine and Hindley who adopts Heathcliff.
* Mrs Earnshaw - Catherine and Hindley's mother.
* Frances Earnshaw - Hindleys wife and mother of Hareton.
* Mr Linton - Edgar and Isabella's father, owner of Thrushcross Grange.
* Mrs Linton - Edgar and Isabella's mother.
* Mr Green - Edgar Linton's lawyer.
So if you want to proclaim your esteem for all the characters in Wuthering Heights to the world, this is the place to be.