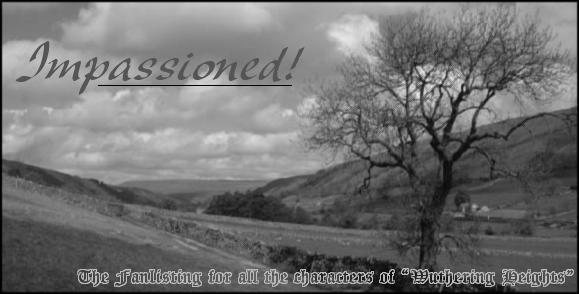 Home | About | Rules | Codes/Buttons | Join | Member List | Edit | Extras
Welcome to 'Impassioned!' ~ The Fanlisting for all the characters in Wuthering Heights, listed at the Fanlisting Network . If you are not sure what a Fanlisting is, or want to know a little bit more about all the characters in Wuthering Heights, have a look through the About section.
As of April 2015 there is an issue with the forms on this fanlisting. They may, or may not work as desired. If you wish to join this fanlisting, update your information or have just have a chat please e-mail me or fill out my contact form. I'm sorry for this temporary inconvenience. Thank you for your understanding.


Fanlisting Statistics:

Script used: Enthusiast
Last updated: 19th August 2019
Member count: 16
Pending members: 0
Newest members: Destinii Haruya
Listed Under: Characters
Previous Owner: Olga Thank you :)