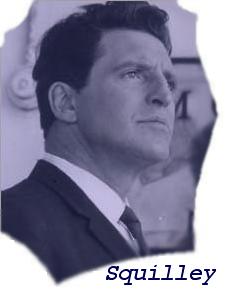 What is a Fanlisting?
A fanlisting is a place for all fans of a particular movie, singer, or in this case, actor to come together. It is a web clique that lists fans of a particular subject. Unlike most web cliques, a person does not need a web site in order to join. Fans from around the world submit their information to their approved fanlisting and they are then listed to show their love for the subject.
Who is Denis Quilley?
Denis Quilley began his professional acting career at the age of 17 when he joined the Birmingham Rep under the leadership of Sir Barry Jackson. After a brief haitus for his National Service he returned to the London theatre working for Sir John Gielgud and began his ascent to the top of his profession. Known as one of the truly great men of British Theatre his long and distinguished career included not only well over 100 plays in countries as far apart as the USA, Italy and Australia, but also more than 50 television shows, 15 movies and 25 LP/CD recordings. Leading characters have included titles roles in
Macbeth
and
Sweeney Todd
, Cpt Terri Dennis in
Privates on Parade
, and most recently Eli Whitney in the National Theatre's production of
Anything Goes
. The winner of two Olivier Awards her was made an O.B.E in 2002 for services to entertainment.
He died on 5th October 2003 and his autobiography "Happiness Indeed: An Actor's life" was published posthumously in February 2004.
More information can be found at the
IMDB
Why 'Squilley'?
The name for this FanListing was taken from Mr. Quilley's autobiography in which he relates various tales of working with some of Britain's most eccentric performers. One such actor was Sir John Gielgud, who for reason's Mr. Quilley never ascertained insisted on calling him 'Squilley'. It was a term I rather liked and thought it would make a fitting name.
So if you want to proclaim your esteem for Denis Quilley to the world, this is the place to be.